Next WPARC Meetings
Our Next Club Meeting is
Saturday, Jan 27 1:00 PM
Meeting Location
Via Roma Pizzeria con Cucina
1230 Sunset Blvd Ste 600, Rocklin CA
The club is repeating a successful and popular kick off event from 2017. We will assemble on Saturday, January 27 at 1:00 PM at Via Roma Pizzeria con Cucina for a kickoff luncheon. Four Italian themed entrees will be available to order at the event. The meal will include salad, entree, dessert, tea or soda, and gratuity for $25 per person. Adult beverages are available at extra cost. Our annual prize drawing using all the tickets from the monthly drawings will be held during the luncheon. This event takes the place of our usual monthly third Tuesday meeting for January. Come join the fun! It won't be the same without you!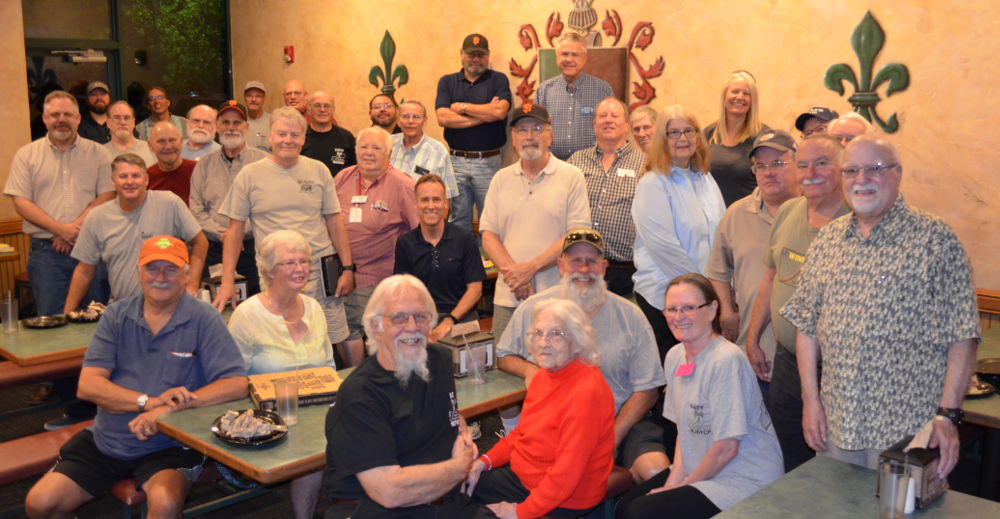 WPARC News
WPARC Supports blustery Lions Club Food Distribution Event in December

Frank 'KYK and Roger 'OU were especially grateful to all the members who turned out bright and early to support traffic logistics at a very blustery annual holiday food distribution event near the airport. Kudos to all the brave hams who turned out!



WPARC Annual Dues are Due

Annual club membership dues are due now. If you are active military then dues are $12 per year. If you are an individual member then dues are $24 per year. If you are a family all residing at the same household then dues are $36 per year for the household. Send your dues payment to PO Box 1173, Lincoln CA 95648 right now while you're thinking about it.



Club Logo Clothing -- New Web Site is Here!

Club T-shirts have been a big hit and club members wanted more! Click the link to visit Custom Fit Apparel to order your custom printed T-shirts, polo shirts, and sweatshirts / fleece outerwear.




WPARC Repeater New Tone 67.0 Hz

Our old subaudible tone of 179.9 Hz was becoming audible on some newer radios presenting as an annoying hum. On Friday October 27 a team treked up to the repeater to change the tone from 179.9 Hz to 67.0 Hz. Ensure that you change all of your radios to use the new PL tone. The old tone isn't recognized by the repeater.



WPARC Repeater Abuses

Repeater Trustee Michael K6BUK received comments on a few repeater users abusing repeater etiquette. Please review Ethics and Operating Procedure for the Radio Amateur as a refresher.



WPARC Offers Monthly Ham Radio Licensing Tests

WPARC is now offering Ham radio license testing on the first Wednesday of each month at 6 PM. The location will be at the Round Table Pizza, 1020 Pleasant Grove Blvd #170, Roseville CA. This is the same location as our monthly club meeting. View map and directions. For more information please email Chuck at: kk6doa (at) gmail (dot) com.



K6PAC Repeater Yaesu DR-2x Upgrades Completed

Upgrades to new Yaesu DR-2X are completed. A new FVS-2 Voice Module will add new features to leave messages, record and review your transmission, along with announcements. Stay tuned for more details.



Sep 16 - WPARC 2017 Ham Fest

Our annual September WPARC Ham Fest was another resounding success. Thank you to all vendors and attendees that came out in search of treasure. Start setting your ham radio treasures aside for our next fest on Sep 15, 2018.



Wires X Node on Yaesu System Fusion Radios

We now have a test Wires X node set up for club members to try. For those unfamiliar with Wires X, it is similar to Echolink or Allstar. The node is located at Art's QTH for the test and is on 145.700. The system consists of a Yaesu FTM-100 DR dual band (2 meters/70 cm) and a Yaesu Wires X box. If the tests are successful (which they appear to be to date) we will link the node with the repeater. This is a significant benefit to the club and greatly increases the versitility and reach of the repeater. Anyone with a System Fusion radio can join in.



System Fusion Net Popularity Increasing as Members Acquire SF Radios

The Monday 7:30 PM 2 meter System Fusion net is growing rapidly. A number of club members have obtained a Yaesu model that offers System Fusion, from HTs to mobiles, to base stations. Of course, the System Fusion radios will also work on standard analog modes. Several people have new radios on order and we should see the net grow even more in the near future. In addition to many club members, we are hearing many visitors from a wide area on the repeater for this net. Also, the Thursday 2 meter and HF nets are growing. We also have recently heard check ins on the repeater from areas as far away as Dixon, Woodland, and Davis.



WPARC on Facebook and Twitter

Check us out on Facebook and Follow us on Twitter (@k6pac)



VoIP on the Club Repeater

Our Club repeater can connect to repeaters all over the world by VoIP. Read more about it at the VoIP page.


WPARC Calendar
All dates are tenative and subject to change at discretion of the board.
2018
January
3-Ham Exam 6 PM
27-2018 Kick Off Lunch

February
7-Ham Exam 6 PM
20-Board + Club Mtg

March
7-Ham Exam 6 PM
20-Board + Club Mtg

April
4-Ham Exam 6 PM
17-Board + Club Mtg

May
2-Ham Exam 6 PM
TBD-Tour de Lincoln Cycling Support
15-Board + Club Mtg

June
6-Ham Exam 6 PM
19-Board + Club Mtg
22-24-Field Day Weekend

July
TBD-Ham Exam
17-Board + Club Mtg

August
1-Ham Exam 6 PM
21-Board + Club Mtg

September
5-Ham Exam 6 PM
15-WPARC Ham Fest
18-Board + Club Mtg
TBD-Tour de Rocklin Cycling Support

October
3-Ham Exam 6 PM
16-Board + Club Mtg

November
7-Ham Exam 6 PM
20-Board + Club Mtg

December
5-Ham Exam 6 PM
18-Board + Club Mtg
TBD-Lions Food Distribution Event Support

WPARC Nets
WPARC Weekly Nets

Members and guests are always welcome to check in. Share a few minutes with us and keep your net skills sharp!


| | | |
| --- | --- | --- |
| Day and Time | Net | Notes |
| Mon 7:30 PM | C4FM Forum | Learn about this new digital technology |
| Wed 10:00 AM | WPARC Day Net | Members and guests welcome! |
| Wed 7:30 PM | WPARC Simplex Net | Can you check-in on 146.550? |
| Thu 7:30 PM | WPARC Evening Net | 2M then HF net follows, see below. |




WPARC Thursday Evening HF Net Schedule

Following the Thursday evening 2M Net we have an HF Net to keep our HF radio skills sharp. Confirm the scheduled band and frequency during the 2M net.


| | | | | | | | |
| --- | --- | --- | --- | --- | --- | --- | --- |
| Day | Band and Frequency | Jan | Feb | Mar | Apr | May | Jun |
| 1st Thu | 10 meters (28.410 MHz) | 4 | 1 | 1 | 5 | 3 | 7 |
| 2nd Thu | 15 meters (21.355 MHz) | 11 | 8 | 8 | 12 | 10 | 14 |
| 3rd Thu | 40 meters (7.225 MHz) | 18 | 15 | 15 | 19 | 17 | 21 |
| 4th Thu | 75 Meters (3.855 MHz) | 25 | 22 | 22 | 26 | 24 | 28 |
| 5th Thu | 10 meters (28.410 MHz) | | | 29 | | 31 | |




Bozo 2M SSB Net - Wednesday and Sunday Eves - 7:30-10:00 PM

This net started in Southern California when local hams started a 2M SSB simplex net on the calling frequency, and some old timer got on to inquire 'What are you Bozos doing?' And the rest is history. Our club repeater site host is active on Bozo Net and thus we need to minimize QRM during Bozo Net hours to be good neighbors. Please respect these quiet hours and limit K6PAC repeater usage to emergency contacts.



Net Script

Running a net is a great way to gain radio experience. Try your hand at running a net! The script can be found here [pdf].
WPARC Officers - 2018
| | | |
| --- | --- | --- |
| President | Jerry H | N6JKH |
| Vice President | Arturo G | KK6NFM |
| Secretary | Michael B | K6BUK |
| Treasurer | Chuck S | KK6DOA |
| Board Member | Clay A | K6AEP |
| Board Member | Gary T | WA6IKE |
| Board Member | Bill M | KJ6YCO |
| Alternate Board Member | Don H | N6DPH |